Rec72
From Netlabel Catalogue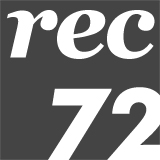 Self Description
rec72 is a netlabel focusing on electronic music. We basically deliver idm, drum'n'bass, glitch, ambient, electronica and experimental sounds. rec72's artists release and offer their music under creative commons (by-nc-nd). The label started it's sonic mission in 2007 and is run by Marco Medkour.
Website: http://rec72.net
Artists
akustikfilm, Bon Menage, Human Terminal, Kid Caustic hobby williams, Organo Flex, Tank Chinaski
Releases
Check out the discography on rec72's website.